Introducing Our Updated Priority Trust Credit Cards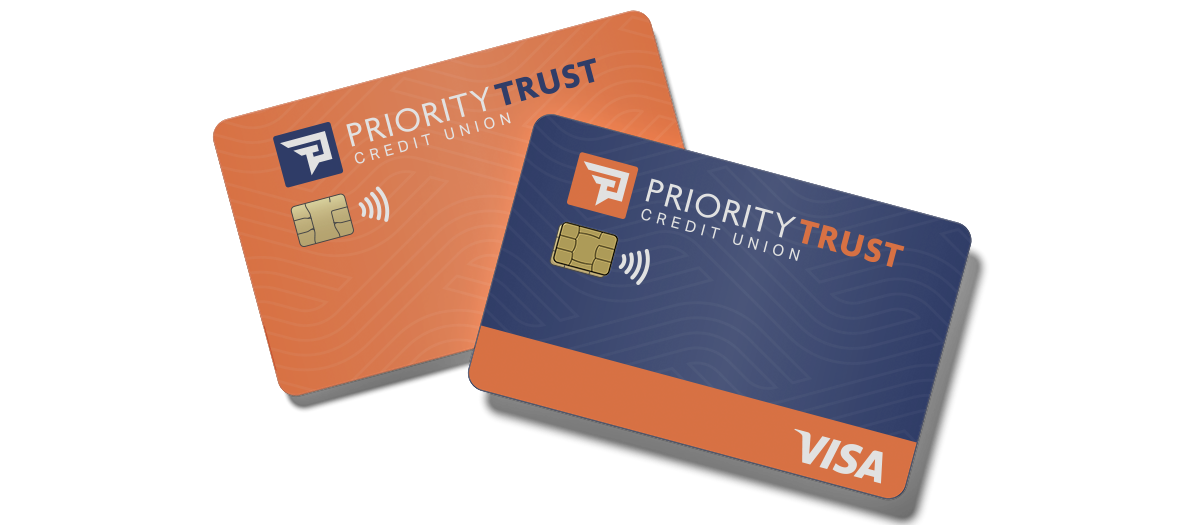 Priority Trust Credit Union is excited to announce our partnership with a new credit card processor to better serve your Credit Card needs. This will mean a few changes to your account, and we want to make sure you know exactly what's happening.
Your new credit card will come with the following new features:
Tap to Pay Functionality – Look for the contactless symbol on the payment terminal. Save time every time you tap!
24/7 Cardholder Service: Call (888) 999-4447 (toll free U.S.) or (531) 233-6764 (International) for balance inquiries, payment information, transaction history, statement requests or to dispute a charge.
eCS – Electronic Customer Service: Real-time credit card information, including transactions, pending activity, payment information, statements, custom e-mail alerts, and more can accessed. (Action is required enroll for online access to manage your account and sign up for e-statements at prioritytrustcu.org).
What You Need to Know
Your old card will no longer work after August, 20, 2023.
To avoid interruption in your lifestyle, a new credit card will be mailed on August 7, 2023. (Please anticipate 7-10 business days for delivery.)
Activate your new card on August 21, 2023. Please do not attempt to activate prior to this date. Upon activation, take a moment to update any automated payments, card on file merchants, mobile wallet services, and other linked payment credentials to your new credit card.
Destroy your old credit card.
All cardholders, regardless of whether they are primary or secondary cardholders will receive a new physical plastic with a unique credit card number, expiration date, and CVV/CVC (Card Verification Code – three-digit number on the back of the card).
If you plan to use your card for cash advances, a Personal Identification Number (PIN) is required. You can customize a PIN during the activation of your card or you can call later to select your PIN.
Download and save any historical credit card e-statements for your records from eZCard®.
For your convenience we have included Frequently Asked Questions; however, if you have any additional questions or inquiries prior to the conversion date of August 21, 2023, please call us at 713-790-6200. If you have questions or inquiries on or after the conversion date, please call Cardholder Services at (888) 999-4447. Someone will be available to answer your call 24 hours a day, 7 days a week.
How to make your Priority Trust Credit Card payment
If mailing a check in August, please include your payment stub with your check and mail to Priority Trust Credit Union 9998 Almeda Genoa Rd. Houston, TX 77075. After the conversion on August 21, 2023, the permanent mailing address will be:
Priority Trust Credit Union
P.O. Box 2711
Omaha, NE 68103-2711
If paying via a bill pay service, automatic debit or automatic transfer - Action is required. Remember to update your account information, payment address, or transfer request information when the first statement for your new card arrives.
New Rewards Program
Starting August 21, 2023, we will offer a new rewards program with select credit cards. The rewards program is called uChoose Rewards. uChoose Rewards will allow you to redeem points on your credit card purchases to use toward shopping, travel, event tickets, gift cards, and more. Please contact the credit union if you are interested in the rewards program.
Recurring Activity
The account number and expiration date on your new card will change along with the CVV/CVC code on the back. It is extremely important to update your account information on all recurring charges or credits that you have authorized on your Priority Trust Credit Union Visa credit card.
Please Note: Payments that normally post on or before August 20, 2023 will still occur on your existing card. Beginning August 21, 2023, you must update your payment information with your new card information for each item you pay using your Priority Trust Credit Union Visa credit card.
As always, our goal is to provide you with the very best in products and services and we thank you for your patience throughout this process and thank you for your membership.
Frequently Asked Questions