You Could Score $500 During Our Summer Car Sale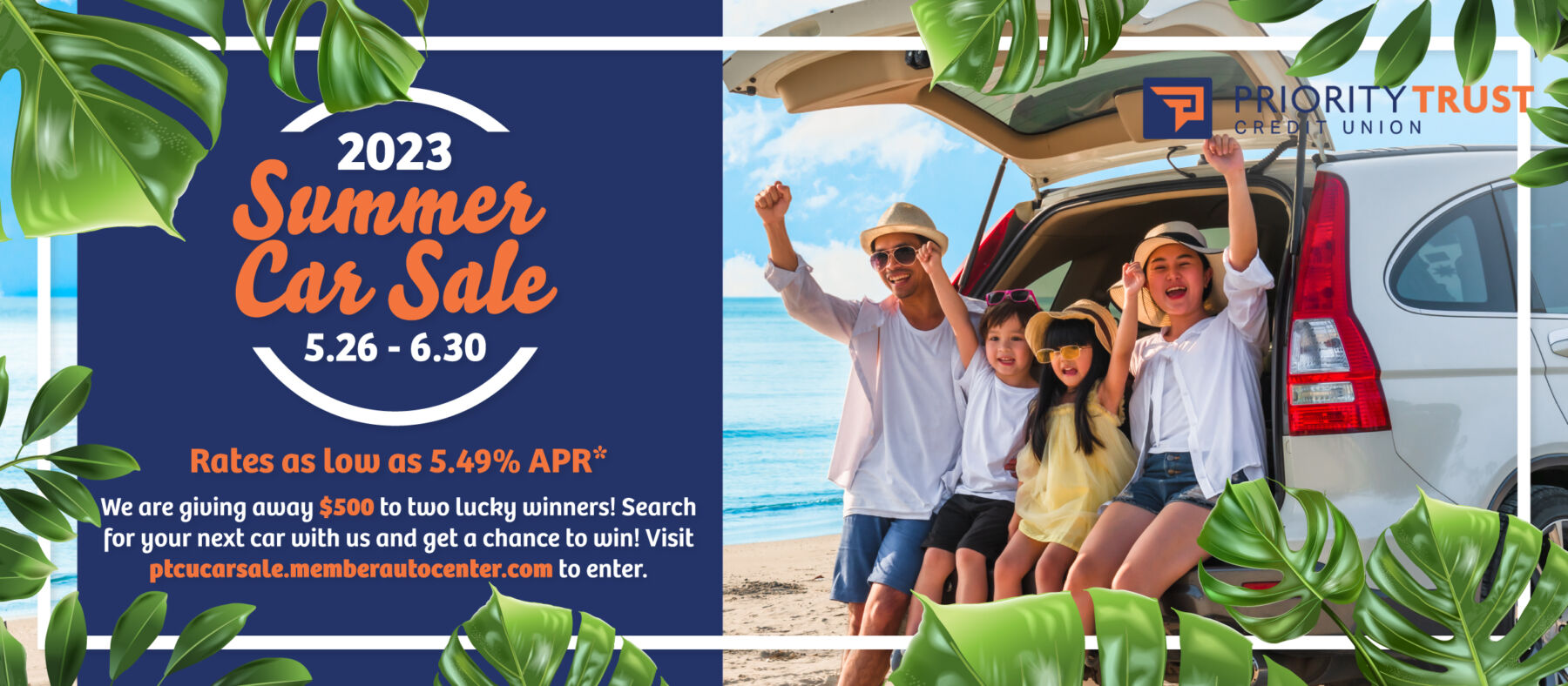 While the Car Sale might be over, all links have been updated to use our Car buying Search Tool.
Looking for a new car that won't break the bank? We've got you covered! Priority Trust's Member Auto Center has an awesome opportunity you won't want to miss. Using our Car Buying Search Tool, you could be one of two lucky winners of $500. Simply follow these three easy steps before June 30, 2023:
Use our search box to find your dream car
Submit a Price Quote Request for a vehicle you're interested in
That's it! But that's not all.
Our Car Buying Search Tool makes finding the perfect car easier than ever. With advanced filters that help narrow your search, plus detailed info about every car listed on our site, you'll find your perfect match in no time. When you submit your Price Quote Request, you'll be connected with the Dealer Credit Union Representative who will work with you to get you special credit union pricing.
At Priority Trust, we're all about making your vehicle dreams come true. And now, financing your new ride is even sweeter. With competitive rates and no payments for 90 days, you can get up to $500 cash back when financing through us.
Don't miss this chance to win big with PTCU Member Auto Center! It takes just a few clicks and some quick typing to enter before June 30, 2023. So head over to ptcu.memberautocenter.com and start searching for your dream car today! Who knows? You could be the next winner of $500. Good luck!
*Rate includes automatic payment discount of 25-basis points. Rate subject to change without notice. Offer not valid on existing loans and is subject to credit approval. APR = Annual Percentage Rate. Loan terms subject to individual credit qualifications, loan amount collateral requirements. Other restrictions may apply.
**Need not apply for a loan to enter. No purchase necessary. You do not have to be a member of a credit union to enter. Limit one entry per person. All entries will be accepted. To enter, visit the website above, find a vehicle you are interested in, submit the form for a no obligation price quote request. All entries must be submitted no later than June 30, 2023 by 11:59 p.m. CST. Contest ends June 30, 2023 at 11:59 p.m. CST. Only two winners will be chosen by random drawing on July 7, 2023 to win $500 each in the form of a gift card. Winners will be notified by a Credit Union Representative. This contest does not include a manufacturer's rebate or discount available to the public. Employees of CU Alliance, LLC and its subsidiaries are not eligible. Must be 18 years or older. No cash value. Odds of winning depend on the total number of entries received. Restrictions may apply. Void where prohibited and subject to federal, state and local laws. For more information visit the website above or call 832-912-2182.